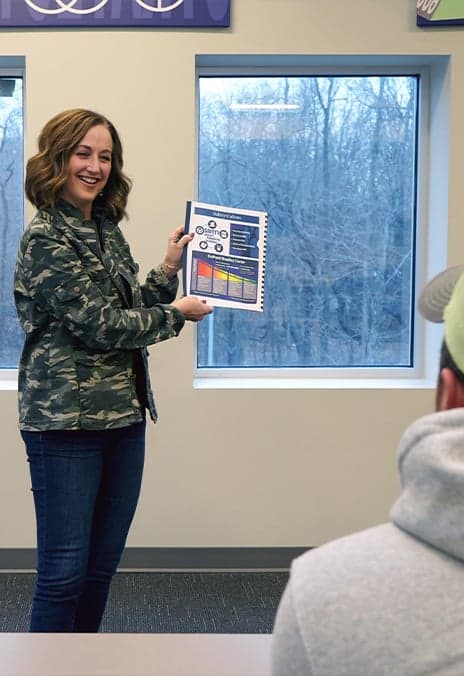 Southern Star takes pride in being a place people enjoy working. Southern Star provides a modern working environment that is fun, friendly, inclusive, and diverse. We also provide competitive salaries and excellent benefits. We're always on the lookout for talented, motivated people to join our team. New positions open frequently, so be sure to check back often. Visit the link below to learn more.
At Southern Star, we believe our team members are our greatest asset, so we recruit and hire diverse, talented and driven individuals. We support our communities and help deliver natural gas to homes and businesses across our footprint every day. Through training and career development initiatives, we allow our team members to grow with the company, enhancing the many skills they can bring to our team. The success and safety or each team member directly translates to the safety and success of our team and communities.
Diversity, Equity & Inclusion
We are a team comprised of diverse voices, individual talents, and unique skills because it makes it stronger. The diversity of our workforce and commitment to inclusion drive success for our team and business. Our team is devoted to maintaining a culture of learning, collaboration, and innovation so all team members can grow and develop. Leadership recognizes team members for their unique contributions, so individuals feel a sense of belonging and bring their entire selves to work. This commitment to diversity, equity and inclusion is an expression of our values and a vital part of our company vision: "One community working safely together to provide clean and reliable energy for tomorrow."
A Flexible Working Environment
Southern Star embraces today's evolving work environment by encouraging eligible team members to participate in a hybrid workplace. Hybrid workplace arrangements help foster a better work/life balance to best meet the needs of individual team members and our company. Remote work opportunities enable Southern Star to hire the best talent in the industry and connect team members across our footprint and beyond.
A Great Workplace for Veterans
At Southern Star, we highly value the skills and experiences veterans bring to our team. We are committed to providing support during the transition from a military to civilian career. We believe the knowledge, training and skills gained during military service strongly prepares individuals for a career at Southern Star. Our team-oriented, safety-focused, high-energy work culture creates a supportive environment for veterans to succeed. A career with Southern Star is an opportunity for veterans to pursue new challenges and achieve new goals. Visit the "Open Positions" link above to explore our available opportunities and apply today!
Professional and Leader Development
Through training and career development initiatives, our team members grow as professionals. Southern Star offers technical training and professional development through online learning, on-demand video, and live instructor-led programs. An investment in your skills and learning is an investment in our future. We believe great leaders create a culture of performance. Our custom leadership development programs target real-world challenges unique to each level of leadership. They are designed for all stages of your leadership journey.
Safety is behind everything we do at Southern Star. Our team members embrace safety in all aspects, whether at work or at home. Our commitment to health and safety protects the welfare of our team members, partners, and the communities we serve. Southern Star team members take pride in our safety culture and feel empowered to keep each other safe. Our safety culture is rooted in our team members supporting each other to make sure our work is safe, sustainable, and productive.
While our business is providing energy to customers, we use our own energy and resources to ensure communities are strong. Southern Star and our team members are committed to supporting groups with a focus on diversity and inclusion, youth organizations, STEM and educational programs, and other nonprofits through corporate giving and outreach that better the places we serve. As a responsible corporate citizen, we are committed to serving the areas that we all call "home."